User:Dieudo
From NVCWiki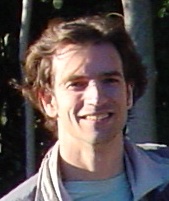 I'll be 40 this year (2006), living with my family near Bordeaux, France, and working as an airline pilot on Air France Airbus 340. When I discovered NVC, 4 years ago, it became obvious to me to bring the copyleft tools to NVC network. I then sent a few emails about it (copy of two of them below). During summer 2003, I started a part of http://nvc-europe.org with a copyleft software ( http://spip.net ), and now Fabien Rohrhurst (nvc-europe.org webmaster, data-processing engineer), wants to set the whole french-speaking part under SPIP (a free software under GPL license).
When I see how powerfull is the developpment of networks based on free/open source softwares I would like the same energy at the service of NVC network.
So here is my present request : that NVC creations be available under the terms of the GNU Free Documentation License

or Creative Commons Attribution-ShareAlike 2.5 License
, as Wikipedia
and Ubuntu
(for example).
How copyleft could contribute to my need of consistency with NVC ?
this is the copy of a mail sent to the CNVC staff on Aug 2002
Hello to you all!
This evening (15 aug 2002), I shared something precious for me, during a NVC "immersion" training, co-animated by Vilma Costetti, Charlotte Duprez Mourman, Pascale Molho and Marie Louise Sibazuri, near Lyon, France.
I shared it after Pascale's presentation of the CNVC, and she suggested to me to write it down to Gary Baran. (After reflecting it to others, I felt open hearted to give it to Marshall.) I also give it to the CNVC Webmaster, and to the Idea-Man, because it has to do with computers and great ideas.
When I see a "copyright" on NVC documents, I feel puzzled, because I need consistency.
When I see a "copyright" on a document, it reminds me of the protection of a merchandise.
A nice dead merchandise.
I would prefer a "copyleft": it would remind me, I am recieving a living gift. It would remind me it is the result of a daily creation, that began with Marshall's grand-mother, and maybe even before ;-) More than that: I would feel eager to participate to this wonderful co-creation.
My request: would you agree to protect NVC creations with a "copyleft"? Whatever is your answer, I would be grateful, if it makes sens for you, to share your evolution about it.
Dieudonné

PS: In the case you don't know about copyleft, this my perception of it:
- it permited the creation of GNU/Linux.
- it protects creations, not only softwares, from the general tendency to merchandise the world.
You will find plenty of informations about it on the net.
About [spiritual basis.en] [bases spirituelles.fr]
The 26/11/2003, I sent an email titled "About [spiritual basis.en] [bases spirituelles.fr]".
Extract :
> Bonjour Marshall, Kay, Gary, Charlotte, Vilma, Pascale, Béatrix, Saleem, Fabien, Godfrey et
Anne,
>
> Maybe you'll remember, I suggested once (with emails entitled : "NVC + copyright + need of
consistency => copyleft !") we could find inspiration in open-source structures to create a
cooperation as efficient as the one we can observe here :
> www.debian.org
> The idea is to find ways to conciliate all the good wills around the globe on efficiently
transmitting this wonderfull living gift : nvc.
> I like many things about www.debian.org :
>
>     1.  On the first page you can find on top of the list their "Social Contract".
>     A kind of "Spiritual Basis", but translated to clear present request, about the way they
are open to co-create.
>     I especialy like this paragraph :
>
>>         3. We Won't Hide Problems
>>
>>         We will keep our entire bug-report database open for public view at all times. Reports  
that users file on-line will immediately become visible to others.
>
>     It fills my needs for connection : mutuality, trust, cooperation, etc...
>
>
>     2.  The website is easily available in plenty of languages :
>
>>         This page is also available in the following languages:
>>         català  dansk  Deutsch  Ελληνικά (Ellinika)  español  français  한국어 (Hangul)  
hrvatski  Indonesia  Italiano  Lietuvių  magyar  Nederlands  日本語 (Nihongo)  norsk (bokmål)  
polski  Português  română  Русский (Russkij)  slovenščina  suomi  svenska  Türkçe  中文(简)  中文 
(HK)  中文(繁) 
>>         How to set the default document language
>
>
> This, for me is a clear evidence of an efficient structure of cooperation.
> I would like this efficiency brought to NVC.

And the 20/12/2003, an other one :
Extract :
Bonjour Kay !
(copy to Fabien, www.nvc-europe.org webmaster,
Saleem, www.nvc-europe.org/SPIP co-administrator,
Godfrey, keeper of the translation authenticity ;)

thank you, Kay, for the "Local NVC Supporter Activation" !
It satisfies my needs for cooperation and trust ;) 


I recently discovered the beauty of Wikipedia :
http://en.wikipedia.org 


what about a wiki called NVCwiki ? 


the english speaking version would be :
http://en.nvcwiki.org 
 

also available in :
> In Other Languages !
> NVCwiki language list - Afrikaans - ‮العربية‬ (Araby) - Bahasa Melayu - Bosanski - Català - Česká -  
Corsu - Cymraeg - Dansk - Deutsch - Eesti - Español - Esperanto - Euskara - Français - Frysk - 
Galego - 한국어 (Hangukeo) - हिन्दी (Hindi) - Hrvatski - Interlingua - Italiano - עברית (Ivrit) - 
Latina - Latviešu - Lietuvių - Magyar - Nahuatl - Nederlands - 日本語 (Nihongo) - Norsk - Occitan  
- Plattdüütsch - Polski - Português - Română - Русский (Russkiy) - Shqip - Simple English - 
Slovenian - Српски (Srpski) - Suomeksi - Svenska - தமிழ் (Tamil) - Tiếng Việt - Türkçe - 中文 (简) 
- 中文 (繁) - Start a new edition

Wouldn't it satisfie some need for connection ? ;)

warmly,
Dieudonné,
nvc-europe.org/SPIP administrator

External links
Home :
NVC admin :
---
Welcome, Dieudonné! Markus Wittwer callz and i are on IRC right now - if you'd like to join us: irc.freenode.net, channel #nvc --John Abbe 11:25, 19 December 2005 (CET)